REACT R – Resident Satisfaction Survey Company

REACT "R": Resident Satisfaction Surveys
REACT R has been specifically designed to provide valuable feedback and performance improvement solutions to multifamily owners, operators and service providers. The REACT R process will transform your organization's Resident services from a policy to a behavior…resulting in higher levels of Resident satisfaction and retention.

REACT "R": Resident Satisfaction Surveys Speciaties


REACT "R": Resident Satisfaction Surveys Features
CEL & ASSOCIATES, INC. REACT R FEATURES
Measures Resident satisfaction with the property and services being provided
Quantifies the likelihood of lease renewal and referrals
Compares the results to three stakeholder groups: the Resident; the On-Site Management Team; and the Building Owner or Asset Manager
Provides a summary Dashboard ("Score Watch") of results
Evaluates performance over a specific time frame
Provides comparative scores from CEL's extensive database of survey data
Identifies specific areas in need of attention
Includes an Action Plan and guidance for completion
Allows for survey customization
Provides performance evaluation and feedback in a prompt and cost-efficient manner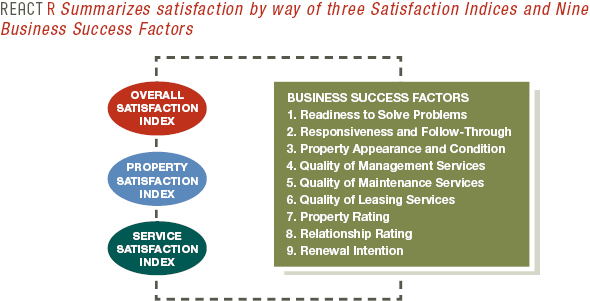 REACT "R": Resident Satisfaction Surveys Benefits

Increases financial performance and enhances asset value by improving operations
Provides feedback immediately so you're always aware of forces influencing your success
Quantifies the performance of internal service providers, creates service awareness and identifies needed performance improvement priorities
Strengthens your company's commitment to service and performance excellence
Improves communication with external and internal customers
Complements new business solicitations, investor presentations, and/or financial packages
Provides benchmarks for performance evaluations

Provides quantifiable feedback for budgeting
Provides the feedback necessary to prioritize capital expenditures
Provides actionable feedback for service improvement
Reveals potential exposure to non-renewals
Improves communication and builds valued customer relationships

Targets areas for improvement
Gives insight regarding future non-renewal exposure
Pays for itself by reducing turnover and related costs
Involves Tenants in the process
Achievement of National A List Award status can be used for marketing and leasing efforts
Provides a leasing advantage over competitors

Increases financial performance and enhances asset value by improving operations
Generates independent performance metrics that create a competitive leasing edge
Quantifies performance of service team members
Prioritizes budgeting and capital expenditure decisions
Improves trust in management's operational activities, knowing revenue-generation is enhanced by customer feedback
Enables successful asset branding

REACT "R": Resident Satisfaction Surveys Reports
CEL has a variety of reporting options, and we tailor your REACT Plan and reporting package to meet each individual client's needs. We have discovered that for performance improvement to occur, REACT clients must be presented with a reporting level that matches their internal abilities to manage data, thus focusing on change. For validity and reliability, REACT includes a proprietary reporting and analysis process.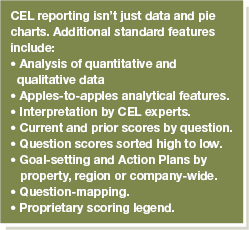 Standard Reporting and Analysis
Consolidated and individual property reports
Select Data Reports
Ad hoc reporting based on any parameters, available as needed
Executive Summaries
Prepared by CEL Senior Associates who have years of industry experience and knowledge of how to drive improved performance
Summary Report (Formatted for smartphones)
Single-page summary, perfect for Senior Executives and presentations
Score Watch
Includes up to 5 years of trending data of all essential scores
Service Gap Analysis
Identifies "lost potential" and recommends how to regain the loss
Portfolio Overview
In-depth analysis of your portfolio, including properties on "Alert Status," significant changes, property score comparison and award status
Measurement of Three Satisfaction Indices
Critical measurement of satisfaction, including Overall, Property and Service
Measurement of Nine Critical Business Success Factors
Drill down and further define those areas that impact drivers of satisfaction and impact renewals and referrals
---
Contact a CEL Associate for more details.
Call (310)571-3113
or click here to contact us via email.