REACT Process – Tenant, Resident, Client & Employee Satisfaction Surveys


REACT: Tenant, Resident, Client & Employee Satisfaction Surveys
CEL & Associates, Inc. created the REACT performance improvement process at the request of hundreds of our clients who wanted to become a Best-In-Class enterprise. From the Toby Awards to the Malcolm Baldrige National Quality Award to Six Sigma…process, performance improvement and outstanding results are the cornerstones.
To assist real estate firms in achieving recurring enterprise success and becoming a Best-In-Class organization, CEL & Associates, Inc.'s REACT program was developed by Building Owners, Property Managers, Opinion Survey Specialists, Statisticians, Tenants/Residents and others.
REACT is a comprehensive performance improvement process of: identifying, quantifying and analyzing operational and organizational performance gaps; designing and providing effective solutions; and creating action plans to improve financial, customer and operating results.
REACT is based on a customer-centric business improvement model that begins with obtaining timely feedback from your customers, and uses performance metrics, standards, industry benchmarks, goal setting and performance recognition to achieve the desired results.


Tenant, Resident, Client & Employee Satisfaction Surveys
NEEDS ASSESSMENT:
Determine your needs, priorities and area(s) of focus. CEL & Associates, Inc.'s Advisors will listen and guide you in creating and selecting the best methodology and process to exceed the business results you seek to achieve.
PERFORMANCE ASSESSMENT:
Obtain the feedback from each Stakeholder group that will impact performance. Design a statistically valid, reliable and accurate survey instrument. Create and select a survey process and methodology that maximizes the highest level of participation/response. During this phase, CEL & Associates, Inc. offers online reporting, weekly progress conference calls and webinars.
PERFORMANCE ANALYSIS:
CEL & Associates, Inc. will analyze all results and provide comparisons to industry metrics and peer group benchmarks. A detailed report includes: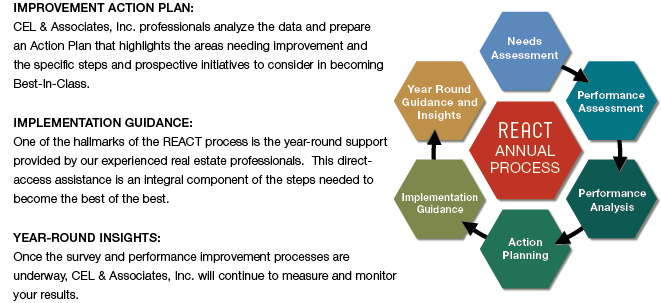 Tenant, Resident, Client & Employee Satisfaction Surveys
CORE QUESTION SET FOR BENCHMARKING: CEL & Associates, Inc. uses a core set of questions that meet our clients' unique information needs. Drawing from an inventory of hundreds of opinion and/or demographic questions, we can add and custom-design a survey instrument that achieves your goals.
SURVEY METHODS: CEL & Associates, Inc. will assist in determining what survey data collection methodology matches your goals. Currently we offer:
Printed/Mail-Back Surveys
Printed/Mail-Back Surveys with an online option
Online Surveys (various options available)
Telephone Surveys
RATING SCALE: CEL & Associates, Inc. uses a Likert scale, the most widely used scale in survey research, to quantify opinion results. We use a 100-point scale to highlight the results, since a 1-5 results scale can be confusing and difficult to assess the difference between a score of 4.1 and 4.2.
REPORTING: CEL & Associates, Inc. has a variety of reporting options, and we tailor a reporting process and package that meets each client's needs. Our goal is to assist/enable our clients to become and/or maintain Best-In-Class status rather than produce a report to sit on a shelf.
---
Contact a CEL Associate for more details.
Call (310)571-3113
or click here to contact us via email.
To learn more about our REACT services, click on one of the buttons below. We look forward to serving your performance improvement needs.





Tenant Satisfaction Surveys · Resident Satisfaction Surveys · Client Surveys · Employee Surveys