REACT Advantage – Tenant Satisfaction Surveys – Resident Satisfaction Surveys


REACT: Tenant, Resident, Client & Employee Satisfaction Surveys
CEL & Associates, Inc. takes pride in our ability to facilitate the transformation of information into results. Our survey and reporting processes are considered to be the Best-In-Class solution for many real estate organizations. Before making a decision, it is very important to compare the differences.
We offer Tenant Satisfaction Surveys, Resident Satisfaction Surveys, Client Satisfaction Surveys, and Employee Satisfaction Surveys. Take a moment to review the chart below, and you will see the "REACT Advantage" for all of your satisfaction survey needs.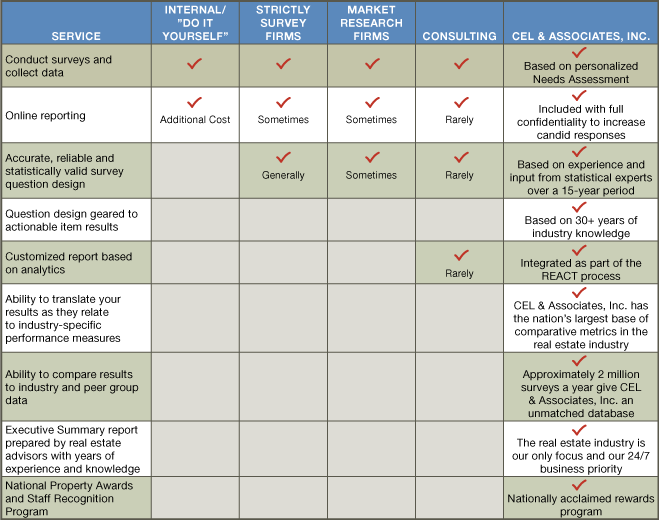 ---
We Offer Tenant, Resident, Client & Employee Satisfaction Surveys
Contact a CEL Associate for more details.
Call (310)571-3113
or click here to contact us via email.
Tenant and Resident Satisfaction Surveys · Client Surveys · Employee Surveys